Customer Strategy: Put people at the core of your business
Map thinking to your customer engagement strategy and tailor your strategy development process to enhance clarity, confidence and consensus. Devise a strategy to advance interactions and create successful relations between your employees and customers to benefit all stakeholders.
Understanding consumer behaviour
Having a customer strategy means putting each individual customer at the centre of your business. As everyone has their own Thinking Styles™, it's important to develop an understanding of consumer behaviour so you can tailor your strategy and teams to drive customer satisfaction.
Utilising Whole Brain® Thinking and the HBDI® empowers managers and HR professionals with the insights required to take action immediately and influence genuine relationships.
A devised customer strategy allows you to:
Ensure customer satisfaction
Increase sales and profitability

Build valuable relationships
Develop a customer strategy
Happy employees make for happy customers. Utilising the Whole Brain® Thinking model enables you to devise teams within the workplace that value cognitive diversity, which is then reflected with exceptional service to each individual customer.
At Herrmann, we empower employees and HR professionals to use Whole Brain® Thinking to ensure a real and lasting impact with positive and memorable employee and customer interactions.
Discover the following resources to develop a customer strategy in your business:
Whitepaper
How to get more ROI™: return on intelligence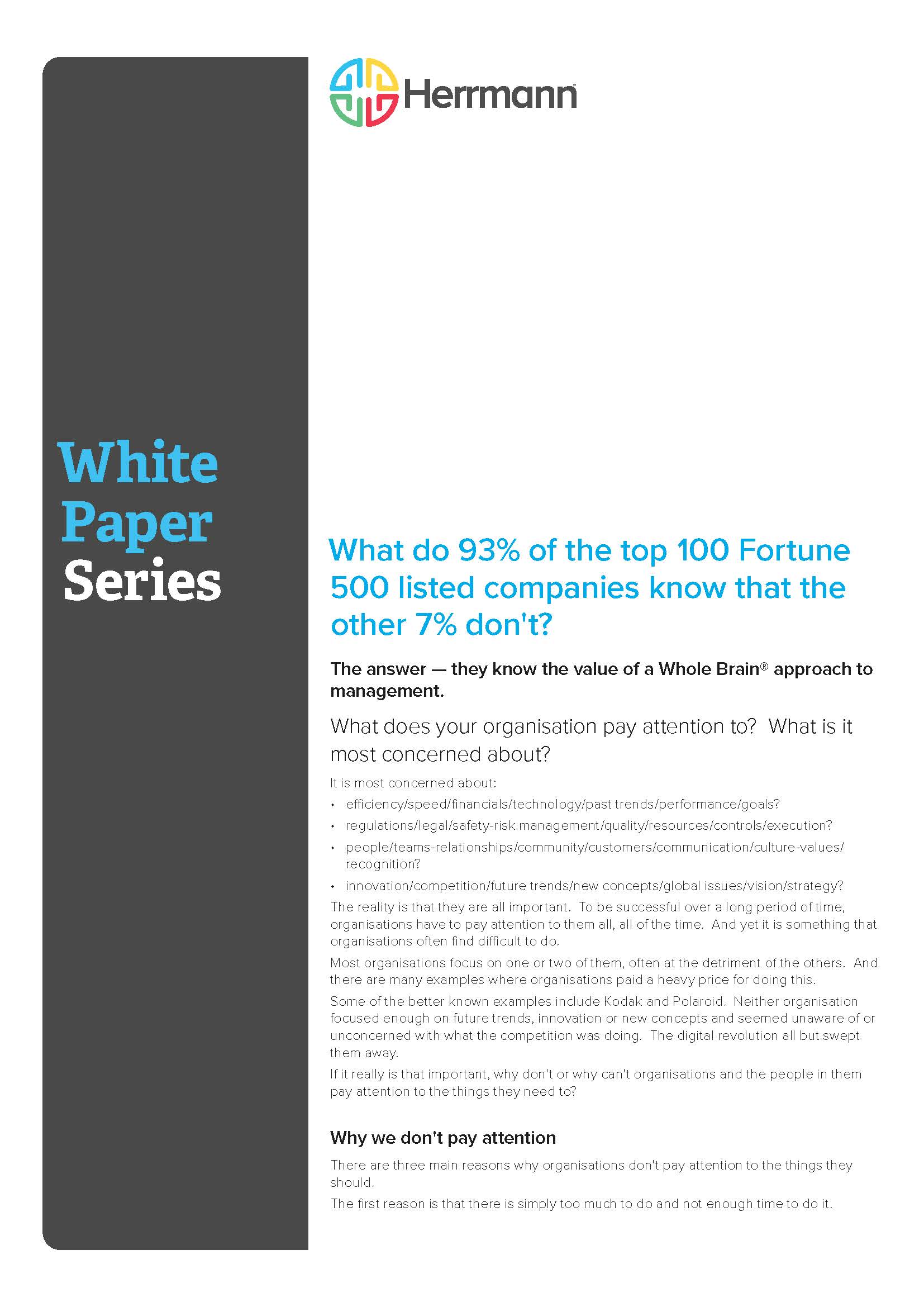 Whitepaper
What do 93% of the top 100 Fortune 500 listed companies know that the other 7% don't?
Check out the latest trends in Customer Strategy
Assisting with customer strategy is something we have specialised in with businesses around the globe for decades. Check out some of our most popular articles to help you achieve better results.